Why No-Coding Platforms are gaining Popularity?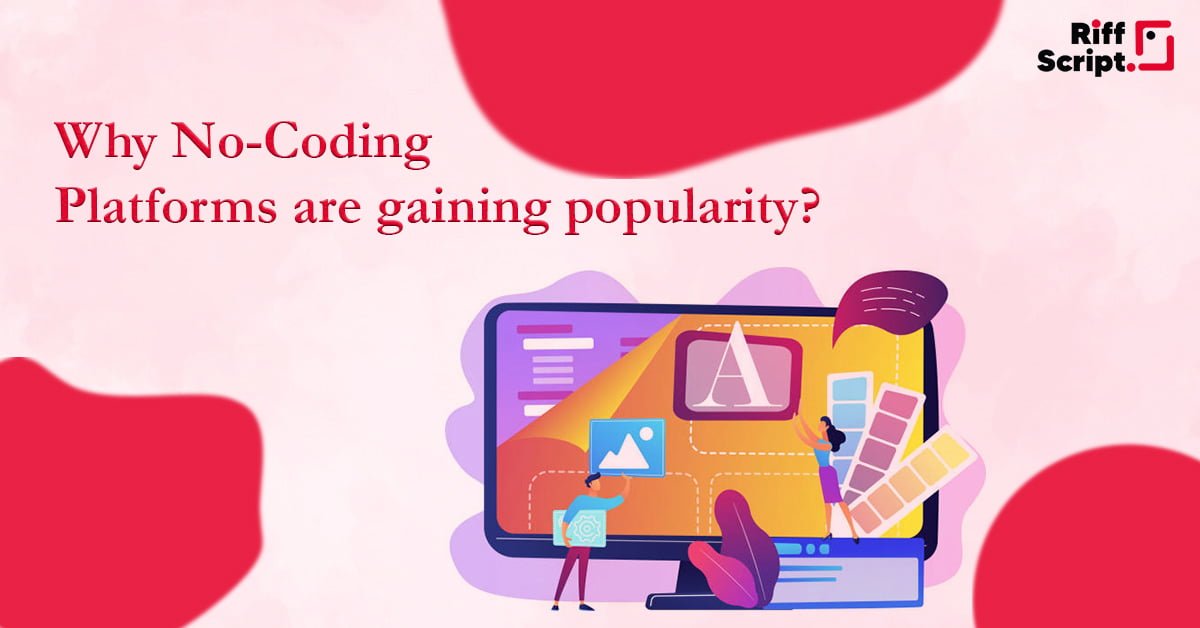 Your hard-earned programming abilities may quickly become outdated in this technologically advanced environment, but on the other hand, the entire programming process may become a piece of cake, enabling you to create more digital products quickly.
According to a Gartner estimate, 70 percent of new apps would be developed by market participants using low-code and no-code platforms by 2025.
The emergence of business leaders who work outside of IT departments to develop technology or analytics skills for use in the workplace is being fueled by the introduction of low code development platforms for citizen developers as well.
As a result, it compels us to change how applications are made. As a result, teams who employ them will compose and assemble them while integration and assembly will take center stage. In fact, according to a Gartner projection, the number of apps made using minimal code development platforms is anticipated to rise by more than 70%.
As a result, all developers are now concentrating on creating applications using Low code or No code platforms. CTOs and CIOs are simultaneously monitoring low- and no-code platforms to ensure the excellent success of their businesses.
So, let's examine each aspect separately.
No-Coding / Low Coding Platforms
When referring to no code/low code platforms, these are visual development environments that let you create apps and websites without any programming knowledge. They merely adhere to ease of use and simplicity of development. In addition, you only need to integrate a few particular features or functionalities—no more coding lines are required.
The low code/no-code platforms offer a wide range of options, from building an application from scratch to regularly managing content without the need for developers. You could place this in-between content management and development.
Let's say you want to build a landing page for your website using a few simple, understandable methods.
To use a low code no-code platform, you are free to use a variety of libraries, templates, pre-defined functions, WYSIWYG editors, customized elements, drag-and-drop elements, and many other capabilities.
What are citizen developers?
The phrase "Citizen Developer" was coined by Gartner for the first time.
Employees who can create websites and web applications utilizing no-code and low-code platforms are known as citizen developers because they lack traditional software development training.
The term "citizen developer" is defined as follows:
An employee who develops application functionality for their use or the use of others using tools that aren't expressly prohibited by IT or business divisions is known as a citizen developer.
The job profile "citizen developer" is not one at all. The user persona is catered to by the competencies and talents. Well, anyone among you with less technical training and understanding could be responsible for this. Citizen's developers at Gartner are a part of one department other than IT. They employ low-code and no-code chances to implement business ideas since they are business users.
Low Code Helps Address the Skills Shortage
It's well known that the technology sector is severely lacking in talented and competent developers, and this issue is now critical for the creation of applications.
The report claims that by democratizing software production to include business customers, low-code app development is helping many firms speed up development.
Furthermore, the minimal code can cut expenses, use the company's buried technical ability, and restart large-scale software initiatives.
Around 77 percent of firms have already adopted low code application development to satisfy consumer demands and requirements, according to the Mendix State of Low Code 2021 report, and about 75 percent of IT leaders think it's a trend they can't afford to ignore. This study was based on a survey of 2025 IT specialists from six different nations.
Here are some statistics facts that you should also take into account:
In a firm that uses low code, over 56% of employees currently use apps made on low code platforms.
In two out of every five instances, low code users reported more effective teamwork, quicker time to market, and lower costs, with low code projects averaging cost savings of 53% and completion times of 56%.
33 percent of enterprises that use low code have used it to create mission-critical apps.
Software developers asserted that a low code platform could manage about 51% of their everyday development effort.
Low-Code App Development Offers Excellent Flexibility and Agility
According to Isaac Gould, a research analyst at Nucleus Research, companies that prioritize the digital transformation of routine business operations and procedures are now choosing no-code or low-code technologies since they are relatively affordable. They also assist you in lowering technological barriers to entry.
Additionally, he stated that businesses may use low-code-oriented Robotic Process Automation (RPA) or Business Process Management to automate and digitize business activities (BPM). Additionally, users can create internal company applications using a minimal code app platform.
Developers may now do jobs two or three times faster than they could with conventional developer tools. To reduce friction between end-users and IT, low code technologies in this case enable citizen developers and users to contribute their skills, knowledge, and expertise. Low code technologies also create procedures that better fit the use case and require less IT involvement.
Advantages of Low and No-Coding
With ever-changing customer expectations and market needs, enterprises have intensified their digital transformation initiatives in the wake of the pandemic. Let's now review some of the main benefits of low- and no-code solutions.
IT overhead is less
Isn't it intriguing to create apps or websites without having to pay expensive charges to dedicated developers? A lot of start-ups, creative digital marketing firms, or small business owners with limited resources or budgets would be happy to pay a modest price to have their apps or websites developed at a reasonable cost.
More rapid market time
Compared to the conventional manual coding procedure, low-code/no-code platforms hasten the construction of websites and mobile applications. Product conceptualization, development, testing, and debugging don't take long weeks or months.
Nowadays, anything may be finished in a few hours or days. An eCommerce store, for instance, can be set up and deployed in a few days. But all you need is a competent expert. The identical website (eCommerce) would have needed a team of skilled developers, designers, and QA engineers if it had been scheduled to be developed ten years ago.
Improved IT governance
You may quickly get rid of the third-party dependencies and allow a collaborative working environment by using low code/no-code platforms. Removing process, data, and security weaknesses reduces IT overhead and fosters a uniform modeling environment.
Customer satisfaction is higher
Customers who are accustomed to using digital gadgets anticipate that businesses will give them comparable experiences when they use consumer apps. Platforms with low or no code make it possible for organizations to swiftly integrate a variety of services while keeping a uniform omnichannel experience.
A Look into the Future: Will Your Business Survive?
The simplest response to your query is "YES." Nothing will ever take the role of developers, as was previously stated. They are so in capable hands. Hence, without the help of developers, the future of the software/website development process won't be complete. Instead, it will be a hybrid with a variety of supporting technologies that will make application development faster and more efficient.
So, whenever you require a unique and customized website solution that is exclusive, advanced, and addresses your specific needs, skilled web designers from RiffScript, the best digital marketing agency will be available to assist you.